Theatre is taking on You Can't Take it With You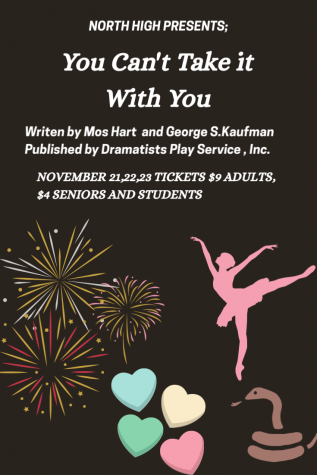 The North High drama department is taking on the play "You Can't Take It With You." Show dates are November 21, 22, and 23 at 7 o'clock p.m. Ticket prices are $9 for adults, $4 for seniors and students.
This play is about a wacky family, the Sycamores who have been living in Grandpa Vanderhof's house in New York. This family is a large group of eccentrics who march to their own beat with pride. They have many hobbies that include collecting snakes, building fireworks, writing plays that never get published, and taking ballet lessons. Everyday things like stress and jobs don't matter to them.
When the youngest, Alice gets engaged to her company's vice president, Tony Kirby, her family must straighten up to meet the in-laws. The Kirbys arrive at the wrong time and see the Sycamores/Vanderhofs in all of their crazy glory. Alice calls off the engagement to Tony, but Grandpa gives Mr. Kirby a speech about living life to the fullest and the families find a way to accept each other.
This show is a comedy that reinforces the idea that you can only live life to the fullest by doing what makes you happy.
Allison Waldt the stage manager has this to say, "I think this show has a lot of potential." Her favorite part has been building the set and making friends. Allison says that memorizing lines and blocking for everyone is a lot since its her first time being stage manager. She also says that its not impossible and suggests that others try it out sometime.
Sam Kelly says his favorite part has been playing Grandpa Vanderhof. Sam says he didn't struggle memorizing his lines and blocking.
Juan Esparza said, "It's really interesting, people show who they are, whether they're open or not. Its really fun, people show love and passion." His favorite part has been playing Tony, the character is good person, he stands up for who he loves and who he is. Juan says that memorizing his blocking hasn't been hard but memorizing his lines has been hard. He says the scenes with Alice are the hardest.