Connelly paints mural in the pool
Hang on for a minute...we're trying to find some more stories you might like.
Senior Josiah Connelly has been painting a mural above the bleachers in the pool for over 3 months.
Connelly has always been artistically inclined and while in high school, he's been using his skills to give back to the North High community. Two years ago he designed North High's agenda book cover and now he's used his skills to design and paint a mural in the pool room. "I just wanted to leave my mark on the North High legacy by doing this," Connelly said.
His two friends, Jack and Andy Setser, came to him with the idea to paint a mural in the pool since they are on the swim team. He's received help from Jack and Andy as well as the newly formed Mural Club. He and his friends have been working on the mural for about 3 months. "We hope to get it done at least a week after spring break."
The mural depicts Poseidon, the Greek God of the Sea, peeking out from a body of water with his trident while a man is swimming in the ocean. Also in the ocean is a Native American man canoeing by a strip of land. On that strip of land there is a Tipi set up next to a forest.
Connelly is also currently designing the Waterfest t-shirt for this year, he has been working on the design while working on the mural for the pool.
About the Contributor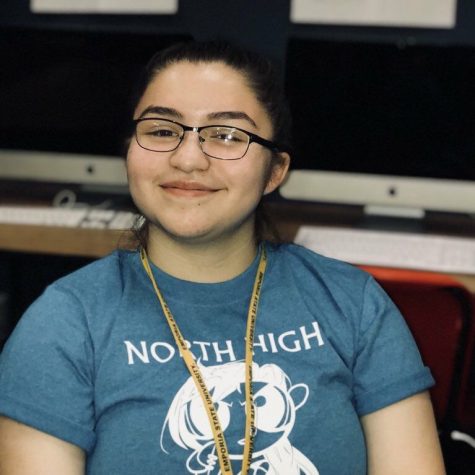 Rosalia Salazar, Reporter

Rosalia Salazar is an ambitious senior who is proud of her roots at North. She has been a part of the Journalism department for all four years,...