Wichita Public Schools cyberbullied
Hang on for a minute...we're trying to find some more stories you might like.
On Wednesday afternoon the weather got really bad. By night time it was really cold. Around 11:00 p.m. ice was falling from the sky. It started to thunderstorm and rain for a while. Students where saying all over social media "school needs to get cancelled" or "I'm not going to school". Wichita public schools made a tweet that they would decide by 5:00 a.m. Thursday morning. Many students were complaining and most didn't want to attend school due to the cold and ice. Students were sending messages to Wichita Public Schools why they should cancel school. Some students took the messages way to far. Some did explain why school should get cancelled and gave really good reasons which was mostly because of the ice. Parents did also complain but they did take it to far like the students did. Other gave bad reasons and were rude. Someone did end up making a fake Wichita Public Schools page and told everyone school was cancelled but the choice wasn't made yet. The threats were taken serious and they were turned into law enforcement. School did get cancelled.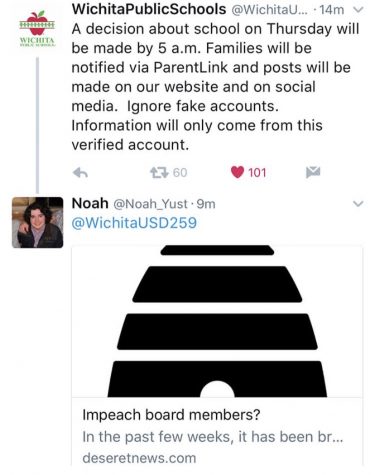 About the Writers
Carina Barron, Reporter
Seleste Montanez is excited to be a senior this year but then again she isn't ready to leave her friends yet. "I don't see my friends much out of school,"...