Horizontes Mural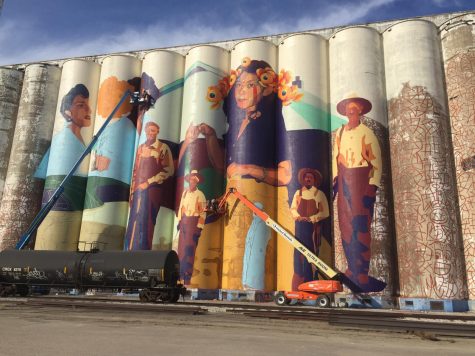 Armando Minjarez has decided to work on a mural here in Wichita. They name of this project is "Horizontes Mural." The word horizontes means horizon in english. Minjarez has invited the street artist GLEO also known as Nathalia Gallegos Sanchez to help with the mural. She has been painting ever since she was just 18 years old. She is born and raised from Cali, Colombia. Ever since she's been drawing murals in her neighborhood in Colombia. But since October 3rd, 2018 Nathalia and Armando decided to work on a mural on the Grain Elevator near 21st and Topeka here in Wichita, Kansas.
This mural has a lot of meaning to it. The people on the mural represent people here in the North and Northeast area of Wichita. In the north side there are mostly Hispanic's and on the Northeast there are many African Americans. So this mural is showing how African Americans and Hispanics can all unite as one, not just them but whites, asians, etc. She also added railroad workers in the mural to represent how they work on the nearby train tracks. She includes all types of people in the mural. In this mural, Nathalia uses many bright colors and her procedure to this drawing is drawing it on the building and since this building has curves it's very difficult because she's only worked on flat surfaces. Then she numbers the parts of the drawing then her and her husband color it in.
Wichita is known for being simple and just having old buildings but for GLEO and Minjarez to work on this mural on the grain elevator can really make the north side of Wichita stand out with the bright colors she has used. This mural is known to be the largest mural ever made in Wichita.