The Voice Behind Riverside Red
Hang on for a minute...we're trying to find some more stories you might like.
Just like every other senior at North, Emily Gaugler juggles Honors and AP classes, the struggle of beginning to apply to colleges, and the task of completing her Bio Med Senior Project while also trying to maintain good grades. What sets her apart from everyone else though, are her after school rehearsals with Riverside Red, her band.
The idea for starting a band came from a simple jam session she had with her brother and their close friend, Josh Hughes. "We decided to just jam as friends one day," Gaugler said. "Then we realized we really had something special that we could make something out of." The idea behind their band name came from the fact that both Emily and her brother Wyatt grew up in the Riverside area here in Wichita. "We included 'red' because we thought it sounded cool but is also a play-off of my brother and I's hair color," Gaugler said. They play a variety of bluegrass, Americana and folk music.
Riverside Red consists of three members: Emily Gaugler, lead vocalist, Wyatt Gaugler, upright bass, and Hughes, songwriter, vocalist and lead guitar. "Being in a band with my brother is so special. It has connected us even further, and I am so grateful for him," Emily Gaugler said. "Every time that I play with my brother I realize how talented he is." "I think it has brought us closer and more tolerant of each other," Wyatt Gaugler said.
Emily has had a love for singing ever since she was young, "I've always loved to sing and I have been very involved with music throughout my life," Emily Gaugler said. She started learning how to play the drums and cello before she started singing. She's also recently started to take vocal lessons with her close friend, Kimberly Bowie. "I really owe a lot to Kim," Emily Gaugler said. "She encouraged me to come out of my shell with my voice."
Riverside Red currently plays about three gigs per month around town. So far they've played at a lot of local spots including The Brickyard, R's Cafe and The Artichoke. Some possible events the band has planned for the upcoming months is a possible mini tour around Texas and Oklahoma.
During her four years at North, she has been heavily involved in the choir programs. "I first sang in choir as a freshman and I began to get really serious about it my junior year," Emily Gaugler said.
At the end of her junior year, she auditioned to be a part of Madrigals, a group of some of the best singers at North, and she got in. "I was so excited when I found out I made Madrigals," Gaugler said.  "I could not wait to get started on music and really develop those special connections that come with being a part of this group."
Being a part of Madrigals is a true privilege for Emily, "It has improved my musical abilities so much in just a few short months and I have gained even more appreciation for choral music." She also has a deep appreciation for her classmates, "I cherish every moment that I sing with this group," she said. "I know that after we sing our last note together I will still have these people around me."
Her classmates have nothing but positive things to say about her. "She's such a silent but powerful leader," Marlen Castaneda said. "She doesn't have to say much to make an impact." "Emily is a strong leader, she knows when to be serious and get the job done," Ramon Mosate said.
Some of Emily's biggest musical influences include her band mate Josh, her vocal teacher Kim and also North High choir teacher Amy Davidson. "I owe a lot to her for continuing to push me into being a better musician," Gaugler said. "Without her I don't think that I would be as involved in music today and I am so grateful for everything she does for me personally, and North High as a whole."
In the future, Emily aspires to continue to pursue music in the future and hopefully sing in college. As for Riverside Red, she belives they have a very bright future ahead of them. "I have confidence in our abilities," Gaugler said. "Everything aside, I wouldn't trade our experiences so far for the world."
About the Contributors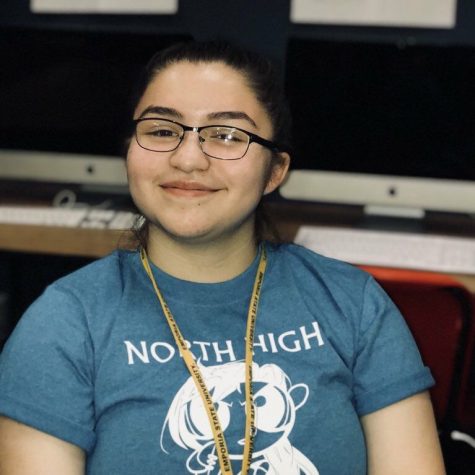 Rosalia Salazar, Reporter

Rosalia Salazar is an ambitious senior who is proud of her roots at North. She has been a part of the Journalism department for all four years,...