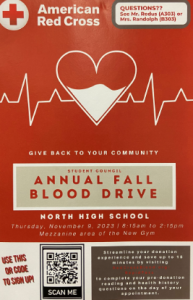 This year's fall Blood Drive is tookplace on November 9th, in the Mezzanine in the new gym.
It was a great opportunity for those who are generous enough and able to donate blood. American Cross is the organization that is hosting chance and is a great cause for patients who need certain blood types.
Donating blood, if qualified, can help make a lifesaving difference. With every blood donation, strength, hope and courage is provided to those patients and their family. Donating makes a difference and if you have the chance too, be the person to save a life.
The goal was to collect 43 units and we successfully collected 45, three of which were able to give Power Reds. These donations not only help people throughout Kansas, but also render to scholarship dollars to award students. The next Blood Drive will be February 29th and are able to sign up from now until the day of the drive.