Students Participate in Event to Revitalize 21st street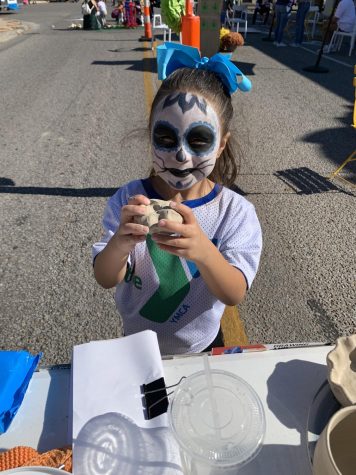 Last Saturday there was an event held by Empower for Dia de los Muertos that was meant to revitalize 21st street.
"They're (Empower, a group of activists) going in front of city Counsil trying to get founds to make 21st street by Nomar more walkable with bike lanes and wider sidewalks," said Thomas.
Ms. Thomas is a North High Teacher who is not only involved with the school, but the community of Wichita
Students from North were there participating in making artwork to represent North.
"There were 3 students that came," said Thomas.
The students enjoyed being at the event and seeing what 21st street is becoming.
Not only did students enjoy being there, North High parents and families enjoyed it as well.
"There were some North High Families there that actually had art booths set up," said Thomas.
Thomas hopes the students and everyone there, learned a lot about the community.
"I hope that they learn that community involvement is important," said Thomas. "Building the community makes everyone's lives better."