Thrift shop gives students options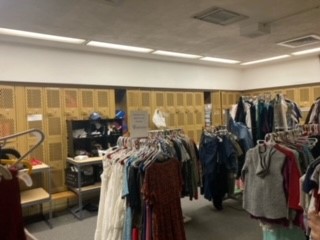 North High's thrift shop continues to gain more attention from students over the last two years.
Pando director Sandra Sanchez took over the clothing closet and turned it in to a free thrift shop. The past few years, the clothing closet wasn't getting attention from students. However, thrifting became popular over the last 2 years. Mrs. Sanchez took this into her own hands and transforms it.
"I see it on TikTok, Instagram social media in general that kids go thrifting instead of spending a butt load of money," Sanchez said.
The clothing closet started about five to seven years ago but when Sanchez realized there wasn't enough advertising or attention being brought to the clothing closet, she decided to take over. "I made it more trendy, more popular I started making more announcements and on social media and I also had the advocacy teachers announce it as well."
The school collects items from people all over the community, whether it's teachers, other parents whose kids have outgrown clothes, or even students who donate will do something like a swap.
You can donate your own clothes that you no longer want and switch them out for something you may like better. "Anybody can use it no matter what grade or age you are. With the thrift shops comes more," Sanchez said.
"We do a collection of semi/formal dresses and suits, last year we collected around 70 suits and dresses for North High students who wanted to go to prom."
With this means you do not have to return anything you take from the shop. You can stop by the Pando office in F109 at any time, but the best times would be during open advocacy, after school, before school, or during lunch.