Making Moves
Girls swimming has a successful City League meet.
The girls swim team made a mark at the 2022 GWAL City League Championships. It was a night to remember and names added to the state qualifying list. State is May 20th and May 21th.
The girls swim team had a huge successful night on Friday May 6th. The Girls GWAL City League Championship was held at Heights High School. "Goodness, I couldn't be more proud of these girls. Watching them reach their goals and being able to celebrate with them is a feeling that's unexplainable," Coach Melody Turley said.
All three relays, 200 medley, 200 freestyle and 400 freestyle were qualified for state by the last chance meet. Cora Dagget placed second over all and came home with a silver medal from her first city league meet. "It was an unbelievable feeling. Looking up at the board and seeing I was just in the top three was crazy. Being able to stand on the podium and represent North was awesome," Dagget said.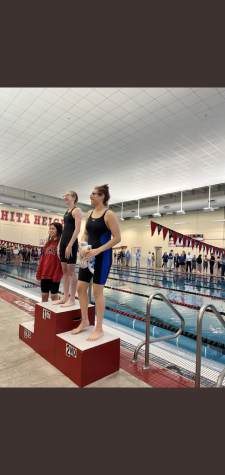 Sophomore Marie Loest is a City League champion in the 100 breastroke. She blew the other swimmers away finishing three seconds before the girl in second place. I have never seen someone so happy after a competition. She got out of the pool and ran right to her coach and they had the best celebratory hug. They both never let those smiles drop.
"I definitely did not expect to actually get first. I had the feeling of accomplishment when my hands touched the pad before everyone else," Loest said.  Loest qualified for state, not just in the 100 breaststroke but in the 200 IM. Her first event of the night she blew her time out of the water and went a personal best. "The best time definitely was a surprise, I couldn't have done that without Coach Turley. We've been working all season for this and it did not let down," Loest said.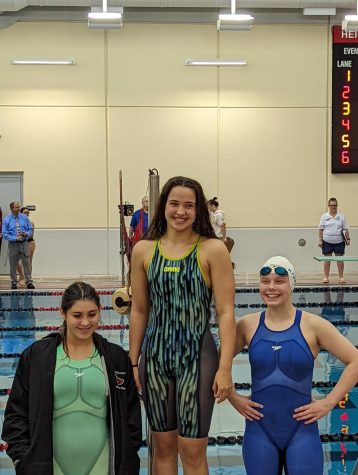 On top of being on the podium, Cora and Marie had made the first all city team. They had score enough points to join a handful of other girls on the podium to show off their hard work.
City League was an experience for everyone and North placed 6th overall at the meet. Just like that state is in less than a week. The ladies will be making a splash in Lenexa, Kansas City. With three relays, Cora Dagget swimming the 50 freestyle and Marie Loest swimming the 200 IM and 100 breastroke state will be an adventure this year.