Who is Ms. Kellogg aka Reba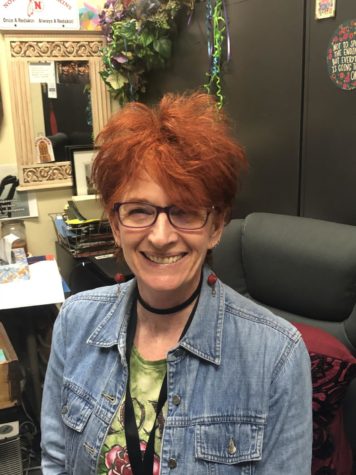 Ms. Kellogg, one of our staff members, Reba is a one of our Paras here at North High, she has been working in the school district since 2007. She has been here at North for all 14 years and is retiring at the end of the 2021 school year.
Before working here, Kellogg was working as a paralegal for a divorce attorney, she had read an article about a principal coming to North to "clean it up" and she remembered thinking how she wanted to work with kids.
She quit her job with the attorney and applied for the para position. "But the money didn't matter because I felt like I was doing what I was really meant to do…work with kids."
The job is based around offering assistance to students. Some kids need extra support to help them learn better and understand the material better. To Kellogg, the most exciting part of her job that she is going to miss is when she see the light bulb go off in a kids head after they were struggling with a subject or topic.
Her favorite thing about working in a school is kids, she loves working with high school aged kids, watching them begin to mature into young adults and offering advice for helping them do so.  When she offers a piece of advice to a student and that student gives the same advice to a class mate, she is beyond pleased knowing that it stuck to them.
"In addition to the kids, I also enjoy many of the people who work here who also have our kids' best interests at heart!"
When she first went to college Kellogg wanted to be a Special Ed Teacher. She had remembered what her 6th grade teacher wrote on a report card, "Roxanne would make a good teacher."
Kellogg has got the nickname around the school "Reba" because of Coach Squires when he discovered she is a singer; but also because of her bright red hair. It reminded him of the singer Reba McIntyre. Some students heard Squires and decided to also refer to her as Reba, she considers it a term of endearment.
She has decided to retire because entirely "I'm tired." In addition to working here at North, Kellogg cleans houses on the side after school. She would also like to spend time with her nephews and her mother, who she wants to be more available to help; but also to travel, garden, and make jewelry.