Among Us Streamers on The Tonight Show
Among us is an indie online multiplayer game that became popular over the past year. The game is centered around the theme of lying and deceiving to win. A player plays as an imposter and their goal is to kill the other players; crewmates, before they finish their task, if the crewmates finish task they win, and imposters lose. The game blew up on TikTok with memes, fanart, cosplay being shown everywhere. But the game got popular from PewDiePie when he played it last year. He played with his friends and the video has gotten over 9.4 million views. This is also where CORPSEHUSBAND rose to fame by being one of the players alongside PewDiePie in that video. Many other creators hoped on the trend and played it with friends, most notably Valkyrae, Sykkuno, CORPSEHUSBAND and Disguised Toast or otherwise known as the Amigop's
These 4 streamers have gotten very popular with playing among us, they had a good following before they played the game but became more popular and recognized for their among us streams. Each member bringing their own strategy and humor to play that makes the streams fun to watch and interact with. Recently Jimmy Fallon hosted a charity stream for Feeding America raising $25,000 from his stream. In his stream he played Among us with Valkyrae, Sykkuno, CORPSE, Noah Schnapp, Gaten Matarazzo, Victoria Tran and The Roots. The Stream being a hit success hitting their goal and everyone had fun.
It was fun to see new players interact with the streamers, it brought a new fun blend of strategies and game play that was fun to watch. The stream overall went well, it's interesting to see how something that's gets so popular in social media can shift into more mainstream news. This was also the streamers first television debut sense the stream will be clipped into a highlight reel and be shown on the Tonight show later this week. Immediately during the stream people were trending things about the stream on twitter. Like CORPSE and Sykkuno jiggling on the vents with Noah Schnapp, many fans finding the whole moment sweet and wholesome. But another thing was trending that brought a lot of comfort and support to a streamer.
Amigops is a 4-member group created by fans seeing how the friend group was so comfortable with one another. It consists of Valkyrae, Sykkuno, CORPSE and Disguised Toast as mentioned before. Toast wasn't apart of the stream which he later said that he just wasn't invited. During the Jimmy's live stream, Toast was also streaming, and fans were showing him undying support. He admitted to feeling a bit left out and the rest of the Amigops comforted him about it to, Toast even talked about how Valkyrae sent him a very sweet message before they went live. CORPSE throughout the stream and even afterwards joked and shaded Jimmy for not inviting Toast in a innocently way. And Sykkuno talked about in his streams later that he wished toast would've been there , that it didn't feel the same without him. Fans also got #weloveyoutoast trending after Jimmy's stream ended to show their support, saying sweet messages such as "Amigop's isn't Amigop's without Toast.". Overall Toast said he felt better thanks to his friends and his supportive fans. Toast is planning to stream a new among us lobby inviting Noah Shnapp and Gaten Matarazzo to play with them and his other friends. Fans wanted to see Toast interact with the Stranger things teen actors and have fun with them that he missed out.
It's really fascinating to see how strong the bond is with Creators and their fan-base, through it all they have a great relationship and its sweet to see the fans support the creator. Though Toast felt left out everyone was there to remind him how important people are to him. Not to mention how the rise of content creators are hitting into more mainstream media like television. This is the side of the internet that should be shown more than the more negative traits.
About the Writer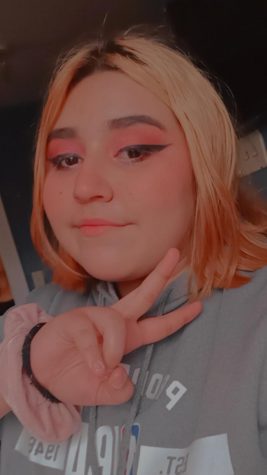 Darlenne Casas,
Darlenne Casas is a Senior at North, joining journalism to share her love of writing and spreading news to others. She loves to draw in her free time,...