Are students academically ready for the end of the year?
With 32 days left of school, how are students feeling about their grades and what they have done this year? A survey was sent out to students regarding their feelings on how they will finish the school year. Thirty-five students have responded.
Three seniors, fifteen juniors, sixteen sophomores, and one freshman completed the survey, and here were their responses. When asked about how their school year has been while being in person and online the majority said it has been tiring.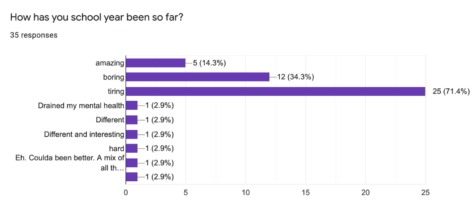 Although most people said school this year has been tiring they still feel like they can finish the year with the grades they want to achieve. Even though Marissa Mata isn't fully confident in getting the grades she wants she said "this year has been super challenging, but everyone has worked hard to push through, and I'm proud of all of us for trying our best in a world that changed so fast and unexpectedly."

There were lots of different classes that students have as their biggest concern this semester. The main ones that the students have been struggling with are mathematic classes, physics, and chemistry.
While being online lots of students lost the motivation for school. Now, near the end of the year, they have to catch up and try harder to get to where they want to be. Mia Coster said, "I don't think there's anything the school or teachers can do for me, it's a matter of motivation and time management for me."
Seniors, Natasha McCreery and Kassidy Wilson, feel good about getting the grades they want and are excited to spend the last few weeks with the people they admire and want to make every moment count.