What does Wrestling mean to Rodah Bengi?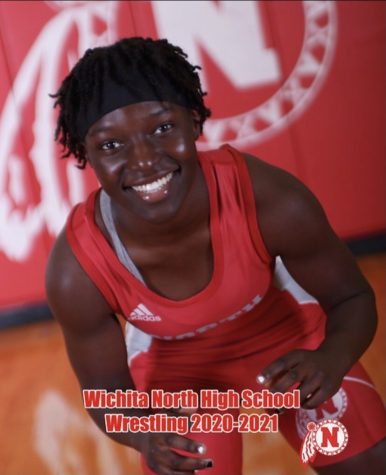 "Wrestling is like a break from life, when I enter the room I'm there to wrestle and just have fun for about 2 hours and not think about anything else," said sophomore, Rodah Bengi.
While being at Wichita North Rodah has participated in cross country, tennis, wrestling, softball, and track. With all of those sports in mind, she says that "so far my wrestling career has been the best sport I've ever done!"
This past Thursday, February 25th, 2021, was the state championship for wrestling this year. Bengi has been preparing for that day her whole wrestling career. The past couple of weeks she has been preparing by cleaning up her moves, working on her shots, and setting up the moves. Bengi placed fourth.
Although while being in high school Bengi gets a lot of homework from her classes throughout the week, she doesn't "really stress about classwork because I know I can catch up on it by reaching out to my peers and teachers." Bengi is in the Bio-Med program here at Wichita North High School.
Being in high school has given Bengi a lot of opportunities she has never really had in life before. In wrestling, she is really glad she was given the chance to participate with such a wonderful group of people.
"All sports teach you a valuable lesson in life but for me, wrestling has taught me a lot more," said Rodah Bengi.