An Open Letter from a North High Senior
I was in 8th grade when I received the phone call that would change my life. I had been accepted into the North High Bio-Med program! It sounds dramatic, I know. But it was the beginning of a wonderful four years that has now been cut entirely too short.
North was not my neighborhood school but I was accepted immediately into the one-of-a-kind atmosphere it possesses. My first North High t-shirt had "WE ARE TRADITION" emblazoned across the chest. It is unexplainable to anyone who hasn't set foot in the building. I was overwhelmed with pride instantly. I was a North High Redskin!
I began my Bio-Med classes and joined choir, softball, and eventually tennis and journalism. For three years I watched my older peers succeed through and complete these programs and I couldn't wait for it to be me and my friends celebrating our accomplishments that we had worked so hard for.
I took all AP and honors courses throughout high school. I spent so many nights awake working to maintain good grades and create work that I was proud of.
I also spent my time creating lifelong friendships and memories that no longer will have the proper sendoff or goodbye.
No longer will we have our senior softball season (my friends and I all made varsity).
No longer will we be able to perform our final Redskin Rhythms with the kids I have been singing with since I was 14 (R.I.P Mixed Chorus).
My class will miss our senior prom, senior sports season, senior pep assembly, convocation, senior breakfast, junior/senior TP, tower signing, and countless other North High traditions.
I will miss sitting in D Hall at the bench during lunch with my best friend and all the underclassmen we adopted; the same spot where upperclassmen had adopted us years prior.
I will miss walking around North with a microphone.
I will miss walking into my Bio-Med classes where I got to see my school family every day.
There are not many who can relate to this unique situation that the Class of 2020 has to bear.
There are some, however. A regular customer at my job came through our drive-thru a few days ago (he is a fourth year medical student who normally studies in our–now closed–dining room). After telling him about all my cancellations, he shared with me that his medical school graduation had been cancelled and my heart broke all over again.
The Class of 2020, no matter high school or med school, deserves the recognition we've all worked so hard for. To the higher powers of the school district, I beg you to give all the high schools our graduation ceremonies (even in the middle of the summer!). So much has already been taken away from us.
All this chaos is occurring simultaneously with our civic duty to stay isolated. Needless to say, the loneliness only amplifies the hurt.
All this grief is met with an equal amount of guilt. Protecting the public from COVID-19 is undoubtedly more important than the fact that many of us have already bought our prom dress or won't get another class with our favorite teacher.
I am extremely thankful to still have my health and my job.
I am extremely thankful my parents have their health and their jobs. This is not the reality for many people around the world.
I am also extremely thankful I got to attend North.
Thank you North High alumni for randomly approaching kids wearing North gear in public and shouting your class year. It means the world.
Thank you to all the teachers, staff, and coaches that pushed me to be the best I could be. Thank you for cultivating an environment of excellence and acceptance. Your positive impact is everlasting on all of us.
Thank you to all the future classes that will keep the traditions alive, even if they may have skipped a year.
Thank you Class of 2020 for being so resilient when things get tough and the future is uncertain. I am so grateful you all were the group I got to make lifelong memories with. I love you all so much.
Thank you North High for the unmatched high school experience.
Once a Redskin, Always a Redskin.
Sadie Millard, a North High Senior
About the Writer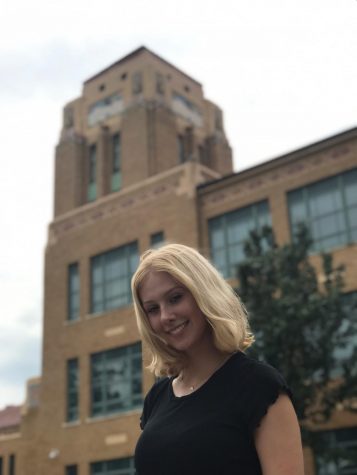 Sadie Millard, Reporter
Sadie Millard is a North High School senior with lots of energy and ambition. She enjoys animals, science, and photography. She is passionate for caring...