Makeups the Move
Her career took off as a freshman when she realized her talents could be used on multiple people, not just her mom.
Aylin Briseno fell in love with the idea of being able to express her artistry through makeup. Makeup has become a topic that has earned a great amount of clout through different social media platforms, especially YouTube. Brisenos top picks are Jeffree Star, Kathleen Lights, and Jazmine.
After her mom convinced her she was good at makeup, Briseno took off and practiced on her mom and a few close friends."It was a lot harder to do it on other people than it was on myself so it was a learning process," Briseno said. Soon enough her practice became a career.
"I think it's fun and being able to do it is kind of like a job that makes it more fun, and when I started I wasn't allowed to have a job so that was my way of getting money," Briseno said.
Her makeup ideas branch from Pinterest, or clients have pictures sent to her beforehand to prepare. Briseno asks clients to bring their own foundation and concealer for the best match possible. "You don't have to go out and buy a expensive one, I give them cheaper options and then sometimes if they want a specific eyelash style they bring it and I charge less but if I provide my own I charge more," Briseno said. Her prices are $20 without lashes and $25 with.
Briseno not only does makeup but also simple Hair Do's and is in the process of learning more complex hairstyles. She expresses the importance of providing multiple services because it allows the customer to not have to go to multiple places. "and nails, I have been looking into it but i feel like you really have to have the funds to invest in it first and then practice," Briseno said.
Her set routine goes as follows; primer; brows ; conceal them; eyes ; clean off their face ; foundation; concealer; powder; blush; highlight; under the eyes; lashes ; lipstick and setting spray.
Although makeup has become her life, Briseno plans on going into the medical field. Her plans are to go to Butler Community College and then transfer to Wichita State. "I want to be in the medical field, that and make up stuff are completely different ends but I like both. If the medical field doesn't work out then I'll probably do make up," Briseno said. She is not planning on going to makeup school but will take courses from makeup artists themselves.
"A lot of them (customers) end up being my friends afterwards so they can just come to me when they need it," Briseno said.
To view her work or make an appointment contact her through Snap chat at aylin_2550 and be on the lookout for her coming TikTok makeup videos.
About the Writer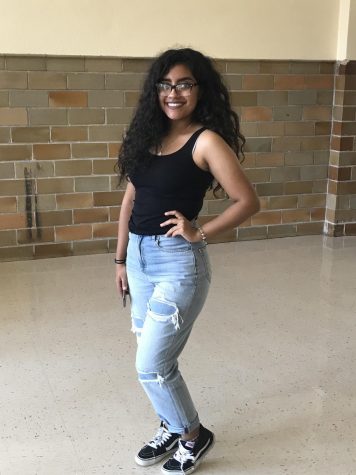 Jennifer Anima, Reporter
Jennifer,  a senior, describes herself as an outgoing and hardworking student. She has been in Journalism/Digital Media for three years. She participates...