What's It Like to Stage Manage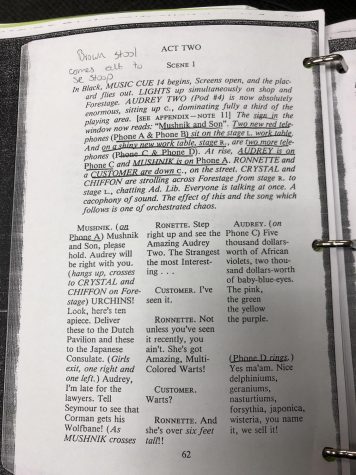 A stage manager is the one who provides support to the director, actors, stage crew, and tech crew. They are also responsible for making sure the show is running smoothly. Some other responsibilities are to schedule rehearsals, call cue lines, and making sure each actor is on stage in time f0r their lines. Stage managers are required to attend allrehearsals.
During rehearsals, the stage manager writes down the blocking (stage movements) for each actor, the light, sound, and set change cues, in the master script, which is given to the stage manager at the first rehearsal.
When a show opens, the director's job is done. It's the stage manager's job to make sure the production is running smoothly until the show closes.
The assistant stage manager, who is often needed for lager shows, is usually used to deliver messages from the stage manager to the crew and actors and vice versa. They often help with large set changes, quick changes, or prepping the stage for a show.
Allison Waldt, who staged managed You Can't Take It With You and is currently stage managing The Little Shop of Horrors says,  "it's closer to a real theater experience than other theatre classes but sometimes it feels like glorified babysitting." She says her stress levels are at an all time high and the closer to the show the higher it gets and it won't down until the show closes. Even with all of this she said she would absolutely do it again.
An anonymous source, who is helping stage manage The Little Shop of Horrors says, its been really fun but some of the cast members are rude. They also said that it's not that stressful, the actors being stubborn is the most stressful part. "I would love to do it again, the next show is Arsenic and Old Lace and I would love to stage manage that one."