"Bringing vision to life;" Pacholski to be published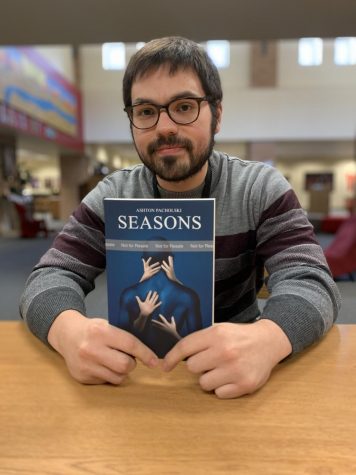 Years ago, Ashton Pacholski had pictured himself a published author, and in February, this dream will become a reality. Pacholski is now well into his second year teaching at North, after being a tutor for five years and attending as a student. He teaches English to Freshmen and Seniors.
Mr. Pacholski's debut book is called Seasons. It is made up of around 50 original poems and a short story, entitled Blue Beetle, which he says has "been in (his) mind for five years." The title is derived from the idea that humans evolve and change over the passage of time, and how one can find therapy and catharsis in writing. "I had an image in my mind for the cover," He said. "It is a figure of darkness being embraced by light. You can look at the hands as the four seasons personified, but it is ultimately up to the reader's interpretation."
Pacholski's inspiration came from Stephen King. "Everything is Eventual changed my life and made me realize I wanted to be a writer." His poetic inspiration comes from Philip Larkin.
Mr. Pacholski describes the feeling of his book being released as a mix of emotions. "It's overwhelming, but it is exciting when you bring a vision to life. You have to be vulnerable when you put your work out there, but I am ready for it to finally be on shelves, and  am elated to know that this vision is now here."
Though it is his first book, this is just the beginning of his literary career. Seasons comes out this Valentine's Day, and can be found at Watermark, Barnes and Noble, and Bookaholic. Pacholski suggests you pick it up for your boo!