Kansas Thespian Festival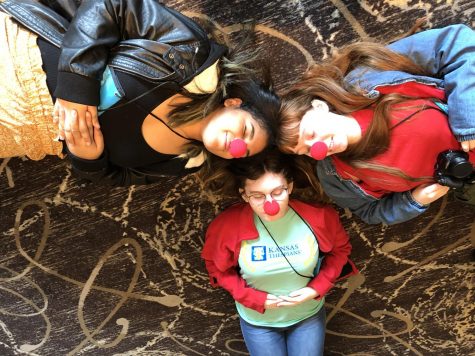 The Kansas Thespian Festival takes place in January every year. It is a three-day festival where different schools from around Kansas gather to participate in theatre worship and watch shows put on by the other schools. It is located in the Hyatt Regency and the Century II Performing Arts Center.
There are main stage shows to end each night.  Last year the main stage shows were, Bring It On!; which was the Kansas All State Show, Wait Until Dark; performed by Lawrence Free State, and Eurydice; performed by Olathe West. The main stage shows this year are, Pippin; performed by Pittsburg High, Miss You Like Hell; performed by Garden City, and All My Sons; the performers are not listed.
While at the festival there are different workshops you can attend for many different things like acting, dancing, improv, stage combat, and many more.
This festival is a great place for theatre kids to meet other theatre kids and make friends. To help with this, the people who run the festival have ducks. These ducks have names on the bottom, and what you do is you buy a duck and try to find the match to your duck. A couple of pairs are "Veronica and JD" from "Heathers" and "Peanut Butter and Jelly." These ducks help the kids meet others and expand their horizons. It's not guaranteed that you'll find you pair on the first day either, so you spend your down time trying to find your match.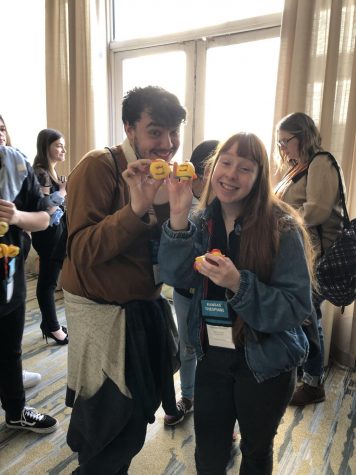 Madison Daigneault says she is most excited about meeting new people and attending the new workshops. "I'm looking forward to Pippin, and I've never heard of Miss You Like Hell so I'm excited to see what that's about," Daigneault said. She is going to mostly audition workshops for music theatre, and a few dance and improv workshops. "Audition workshops really interested me because college auditions are coming up in November and I really want to feel confident when the time comes," Daigneault says.
Janelly Baltazar, says she's most excited to buy the ducks. She said she is most excited for Pippin. "I'm going to a session called finding my inner Morgan Freeman and others about special effects," Janelly said. She also said that the special effects interests her a lot.