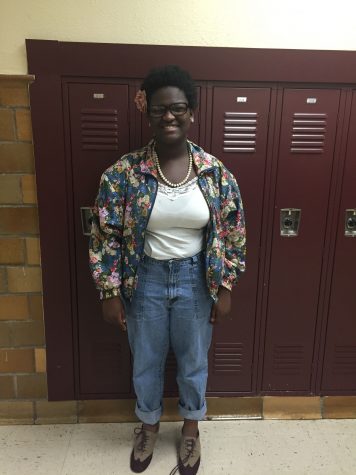 Jasmine Martin is a senior, and this is her second full year attending here. Jasmine was born on March 6 and is 18 years old. She was bo[video credit="" align="left"][/video]rn in Haiti and moved to the United States when she was just six years old. She first started high school in a small town in Georgia with about 500 kids, but moved around a lot and finally settled here in Wichita where she's glad to attend school.
Jasmine's favorite subject in school is English. She can't wait to graduate and hopes to attend KU to study anthropology. Some of her favorites hobbies include writing poetry and cooking when she has free time.
Jasmine is also involved in the poetry club here at North  and does a lot of mentorships at programs called C.L.A.S.S and C.U.B. She loves the teachers and peers at her school because they have great attitudes towards anyone and it's a positive environment, she said.
Jasmine's biggest inspiration in her life is her foster mom, because according to her "she's always been a positive aspect in my life and really trustworthy. She's someone I can count on to push me in school and become a better person". She hopes to graduate with excellent grades and be able to start her journey on a path to success.
Angel Martinez, Reporter
Apr 12, 2017

Bio-Med Senior Project Presentations

(Story)

Mar 29, 2017

Softball falls to Heights, Campus

(Story)

Mar 13, 2017

What a Bloody Day

(Story)

Mar 07, 2017
Mar 01, 2017

Softball Rolling In

(Story)

Feb 23, 2017
Feb 13, 2017
Feb 09, 2017

Girls Basketball 02-07-17

(Story)

Feb 07, 2017

Girl's Basketball at South

(Story)

Feb 01, 2017

Wichita Northside Businessmen's Association Scholarship

(Story)

Jan 11, 2017

Wacky Wrestling Tournament

(Story)

Oct 31, 2016

Turkey Drive Gobbling Back

(Story)